Salem University is excited to announce that we've been named as one of the Top 25 Most Geographically Diverse Colleges in the United States by CollegeRaptor, a leading college planning platform that helps families discover the best college matches for the best price.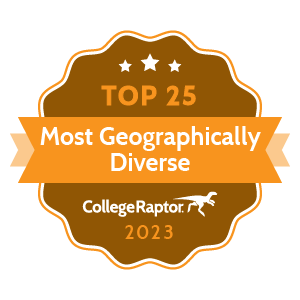 "It is an honor to make this list and to be recognized for the work we are doing," said Karen Ferguson, Interim President of Salem University. "Salem has always made it a priority to embrace diverse perspectives, and we're proud of having built an environment that's welcoming to students from around the globe."
This selection recognizes Salem University as a leading institution in the country based on a combination of factors, including the school's graduation rates, campus diversity, endowment per student, and other key metrics as reported via the National Center for Education Statistics (NCES).
"Since 2015, we've carefully assembled our lists each year to highlight the best schools in different categories to help families get started in the discovery process," said Bill Staib, College Raptor's CEO. "Salem has shown dedication to academic excellence. We are proud to highlight them."
About Salem University
Salem University was founded in 1888 with the goal of providing accessible, affordable degree programs, a mission that continues to drive the school today. The university offers programs both online and on their beautiful 100-acre campus in West Virginia. Students can choose from master's, bachelor's, and associate degree programs, as well as doctorate and post-master's certificate programs, in a wide array of subject areas and specializations. Find out more by visiting www.salemu.edu.
Tags: Higher Education